Trickbot, malware used for data theft and capable of downloading other malicious agents, returned to the top, being the most widespread threat both in Brazil and in the world in September 2021, according to data from the Global Threat Index
Accenture confirms data theft in August ransomware attack
World's Largest Botnet Steals Millions of Dollars with a Simple Scam
Atento telemarketing company suffers ransomware attack
The September 2021 Global Threat Index was released by Check Point Software. Research reveals that Trickbot and XMRig are the two most commonly used viruses by criminals in the world. Also according to the study, 4.09% of organizations affected by viruses in the month were impacted by Trickbot, while in Brazil this number is 5.58%.
Trickbot is a banking Trojan that can steal financial and account credentials, as well as personally identifiable information, and is often used in early stages of cyber hijacking ( ransomware ) attacks due to its role in downloading other agents malicious on infected computers. It had already topped the threat rankings as of June 2021 .
–
Canaltech on Youtube: news, product reviews, tips, event coverage and much more! Subscribe to our YouTube channel , there's a new video for you every day!
–
Trickbot is also constantly being updated with new features, more capabilities and distribution vectors, making it a flexible and customizable threat that can be deployed across multiple campaigns.
In Brazil, the second place in September 2021 was occupied by XMRig, which in August had been the most detected threat. It was found in 4.64% of the organizations surveyed. First seen in May 2017, XMRig is open source CPU crypto-mining software used to mine the Monero cryptocurrency.
Check out the list with the most used malware in Brazil and its impact: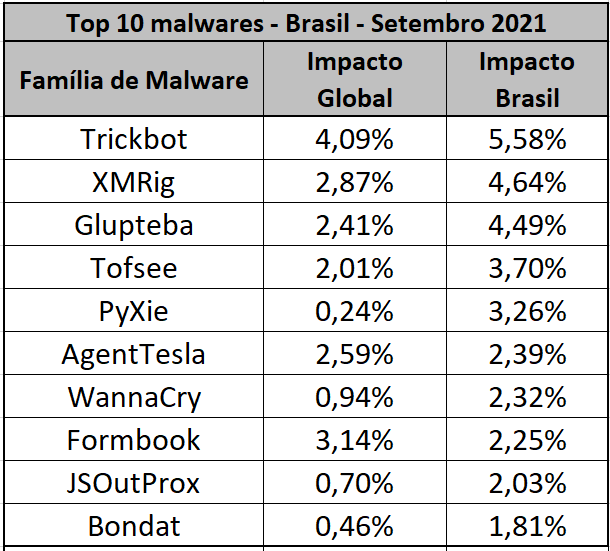 As in previous editions of the index, Check Point reached its conclusions using the ThreatCloud map, the world's largest collaborative network dedicated to fighting cybercrime. The company's database inspects more than 3 billion websites and 600 million files more daily, identifying 250 million malware activities.
Read the article on Canaltech .
Trending at Canaltech:
The 10 most beautiful animals in the world
Projection shows shocking images of the sea engulfing cities in the future
See a "lava tsunami" being released from the Cumbre Vieja volcano
Meet 5 Linux Distributions That Will Make You Quit Windows
6 Science Fiction Concepts That Can Be Real
This content was originally published here.